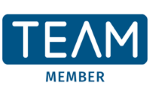 TEAM is the largest network of independent recruiters in the UK.

TEAM provides recruitment and employment services to its membership enabling its Members to provide all the benefits associated with a local independent recruiter whilst at the same time being able to harness the combined networking power throughout 700+ locations.
To its member firms, TEAM ensures access to:
Over 50,000 temps working every day and over 3500 employees.
A Membership which covers over 700 locations and also has Members overseas and subsidiary associations worldwide.
Over 70 UK wide meetings every year for Members to network and improve business opportunities.
TEAM Tool Box which is a free library of documents and fact sheets including model Terms of Business, Employment contracts and much more.
The largest independent agency group in the UK and offers clients and candidates one of the widest selections of services and job opportunities anywhere in the UK and beyond.
How Brookson One can help
As a specialist accountant for contractors, freelancers and self-employed, professionals, Brookson is proud to be an affiliated member of TEAM.
For over 20 years, 90,000 individuals across a number of sectors have already benefited from our expert accountancy and tax planning advice.
If you are a Recruitment Agency or contractor and would like more information about Brookson's services, we would love to hear from you. Whether you are just starting out or established in your field, Brookson has a solution and service to suit.